Buy Tickets
The Home Improvement Show at NEC in Birmingham
Standard ticket includes entry to the show, free access to ask the experts, planning clinic, ask the architects, seminars and masterclasses.
| | |
| --- | --- |
| Event Date | 27-30 March 2014, 10am-5pm daily |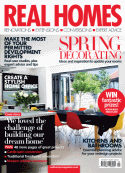 Real Homes magazine delivers the inspiration, style and expert advice needed to improve your home. Add a copy of the magazine for just £2.
Whatever home-improvement project you're about to start - whether it's creating a stylish new kitchen overlooking a landscaped garden or transforming your decor - a visit to the all-new Home Improvement Show is a must!
We'll ensure you leave with all the advice, inspiration and know-how you'll need to create your perfect, wow-factor space.
From 27-30 March 2014, the National Exhibition Centre in Birmingham will be transformed into a one-stop centre for home improvers. You'll be able to speak to experts who can help you to make informed decisions about your project, discover how to avoid common and often expensive pitfalls, plus solve your home-improvement dilemmas. You'll also be able to pick up some fantastic show bargains!
Highlights include:
-Over 150 specialist companies
-FREE one-to-one expert advice
-70+ seminars and masterclasses
-Pick up top tips from TV experts Julia Kendall, Oliver Heath and Matt James
-The Kitchen & Bathroom Inspiration Zone
PLUS Your ticket includes FREE entry to the UK's BIGGEST homebuilding and renovating show; The National Homebuilding & Renovating Show, taking place in Hall 9.
Whether you're planning to build your house from scratch or have a major renovation or home improvement project in the pipeline - this event is for you!